Time for our Holiday Basket Fundraiser and a Pop-up Cookbook Sale
Drawing December 19th! Tickets at library. Cookbooks $5 and under!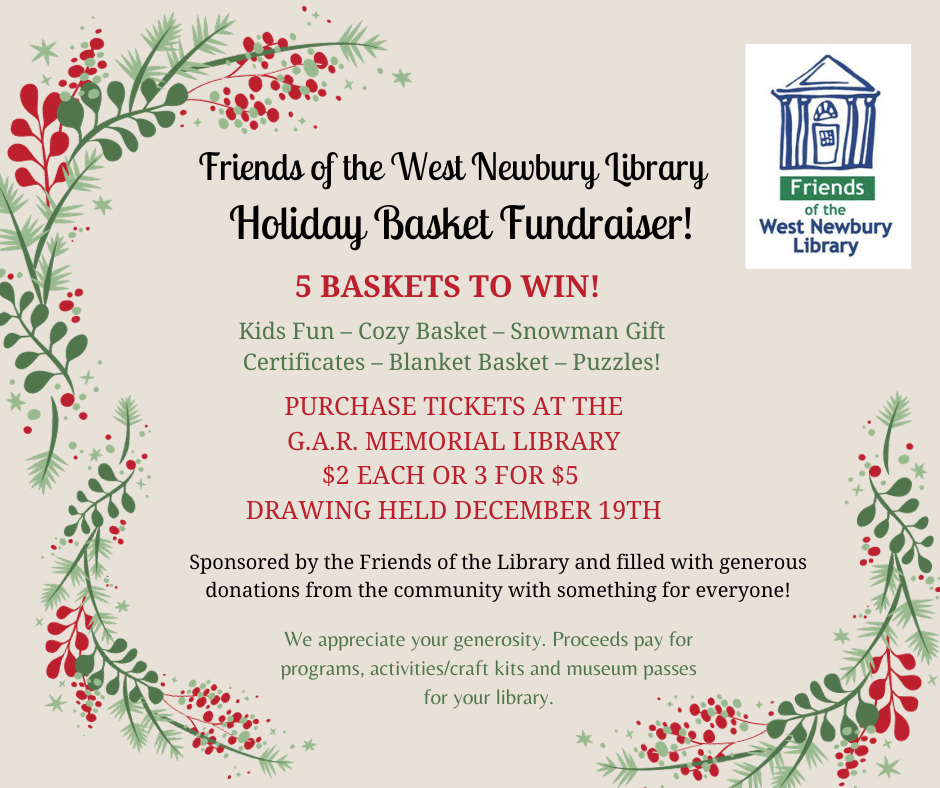 In the Lobby and Fireplace Room at the Library
The Friends of the Library elves have done it again! This year, thanks to a generous community, the Friends are able to offer 5 bountiful baskets - Kids Fun!, Cozy Basket, Snowman Gift Certificates, Blanket Basket, and Puzzles, Puzzles, Puzzles! Tickets are $2 each or 3 for $5 and can be purchased at the desk. Drawing to be held December 19th. Don't miss out.
Also, thanks to another generous donor, we have a mini cookbook sale going on in the Fireplace Room. Lots of great books, $5 each or less.
All monies raised from these sales go directly to fund programming for all ages, activities, craft kits, museum passes and the Library of Things. Please support your library.
.
---
Friends of the West Newbury Library
The Friends of the West Newbury Library is a volunteer, nonprofit, organization whose goal is to actively support the G.A.R. Memorial Library in a variety of ways. The group, which is open to all, raises funds to support library programming and improvements through its book sales and other activities. It also seeks to create interest in and awareness of the library's services and its needs through outreach to the community. The group aims to enrich the cultural life of West Newbury by sponsoring cultural and educational programs.

Join the Friends of the West Newbury Library. The Friends welcome new members!
Download a Friends Membership Form and join today!

The Friends meet at 6:30 PM on the second Wednesday of each month (no meetings July and August) and are always seeking new members. For more information, email us at friendsofthegar@gmail.com.

| | |
| --- | --- |
| President: | Hannah Sparks |
| Secretary: | Amy Martell |
| Treasurer: | Dawn Watson |
Visit and like us on Facebook!
---