Check out some of our newest books
and materials...
Click here for a closer look...
---
---
Like us on Facebook! We have many updates on programs, new materials, schedule changes, and more!


Follow us on Twitter! more than just updates! Fun stuff!
See pictures of all the latest happenings at the Library!
---
---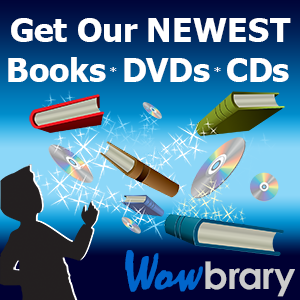 Sign up to receive an email each Wednesday with our most recent additions.

---
Delayed opening on Wednesday, Jan 28
Storytime on Wednesday is cancelled.
We are planning a delayed opening of noon but will update this page as more information comes in.
Stay safe and warm everyone!
---
Be a Sweetheart!
Drawing to be held February 6th.
Enter to win this jam packed Valentine's Basket for someone special, even yourself! The Friends of the West Newbury Library have put together this basket to raise funds to "make-over" the front entry hall. Don't miss out - drawing will be held February 6th. Visit the Friends page to see all the contents. Tickets $5.00 or 5 tickets for $20.00.
---
Fabulous Fibers - a Quilt and Rug Exhibit
January - February
---
Story Times will begin again the week of January 6th!
Story Time for ages 3-6 (morning and afternoon sessions) begins Tuesday, January 6th with Miss Kate and runs until February 24th. Click here to register for 10:15 class Click here to register for 1:15 class
Toddler Time for ages 2-3 begins Wednesday, January 7th at 10:30 with Miss Kate and runs until February 25th. Click here to register for Toddler Time

Babies and Books for infants - 2 years will be held on Thursdays at 10:00 with Sharon Grimes, beginning January 8th and running until February 26th. Click here to register for Babies and Books
Check our calendar of events for more info.
---
Museum Pass Reservation and Program Registration are online!
NEW PASS!
We have a NEW PASS (on a trial basis thru March)
located in North Andover. The Maker Mill is a community makerspace and STEM enrichment center for kids, teens and parents. Try it out and let us know what you think! Pass admits 2 adults and 2 children at 1/2 off the regular drop-in rate. Check their website themakermill.com for more information and visit our Museum Pass page to reserve a pass

Please visit our Museum Pass Reservation Page! to reserve passes or Calendar of Events for program registration. You will need your library card to make the reservation.

For program registration, scroll down to the day of the event and click register. When signing up for Story Times scroll down to the first day of the session.
If you are unable to use a pass you have reserved or attend a program, please contact the library as soon as possible so it can be made available other patrons! 978-363-1105
---
Downloadable eBooks and Audiobooks - New for December
Click here to see a list of new items just added to the MVLC collection. Visit Overddrive to request.
---
Community Picks - Your favorite books to give ... and to receive!
We have created a Community List! Here is the final list of favorites!
---
G.A.R. BOOK GROUPS
Adult Book Group - Next meeting is Monday, February 2nd at 6:30. Our book this month is Beautiful Ruins by Jess Walter.
Visit the Book Club Page for all the details.
Our TEEN book group is hosted by our Young Adult Librarian, Ginny Dalrymple. Open to young adults ages 13-22.
Next meeting is Tuesday, February 3rd, 6:30. Come ready to talk about what you are reading, what you would like to read, and all things teen fiction. There will be food and games! Click here for more info.
---
Spotlight on Legal Forms!
a web resource accessible in the library and from home!
Visit our Spotlight on Web Resources to learn more about Legal Forms!
---
Friends of the Library - Book Donations
We will not be holding drop offs in January and February. If possible, please hold onto your books until March. If you are not able to keep them until then, contact the library or, if in poor condition, donate them to Got Books whose bin is behind the Safety Complex.
Drop off your books and donations on Saturday, March 7th, 2015 from 10:00 - Noon.
Donate your gently used, newer books, dvds and cds and books on cd from 10:00 - 12:00 at the old Town Hall across from the library. Sorry, we cannot accept encyclopedias, textbooks, magazines, vhs videos or damaged/moldy items. Ask yourself, would you want to buy this at the book sale?
Thank you for helping support the library.
---
MANGO LANGUAGES
NEW! - Films to help you learn your language.
Also, 14 new languages added.
---
NEW! TumbleBooks for Kids
eBooks for Kids, read along and read to me, games and puzzles. See our Children's Pages,
Things to Do
---
Mango's Little Pim
Language learning for the littlest ones
Try Little Pim! 10 Languages for kids ages 0 - 6 to learn.
Click here for Little Pim
---
Ideas?
We welcome your suggestions and comments on programs and activities you'd like to see here at the library. Stop in and see us or email Susan Babb, Library Director, at
sbabb@mvlc.org
---